Alabama Women's Hall of Fame
Nancy Batson Crews (1920-2001)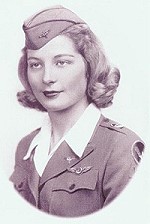 Flying was a passion of Nancy Batson Crews. She learned to fly through the Civilian Pilot Training Program at the University of Alabama, earned her Private Pilot's License on June 15, 1940, her Commercial License (winter) and her instructor's rating (spring) 1942. The fall of 1942, she was one of twenty-eight professional women pilots accepted for the experimental Women's Auxiliary Ferrying Squadron (WAFS), Ferrying Division Air Transport Command, U.S. Army Air Forces. She served October 1942-December 1944.
The first Alabama woman to fly military aircraft, Nancy was an accomplished pilot who ferried fighters from the factory to the docks. Once, when she was unable to lower the nose gear on a twin engine P-38, she exhibited uncommon nerve and skill getting the gear unstuck while in mid-air, then coolly landing without further incident.
A natural leader, she served as president of her residence hall during her junior year and president of the Women's Student Government Association her senior year at the University of Alabama. She graduated in 1941. When the WASPs (Women Airforce Service Pilots) - as the WAFS became known after August 1943 - formed a post-war organization in the early 1970's, Nancy was elected their first president. She served 1972-1975, drafting the by-laws by which the organization is run today.
Nancy was one of four children born to Stephen Radford and Ruth Philips Batson of Birmingham, Alabama. Her parents supported her desire to fly. After WWII, Nancy married Paul Crews, her college sweetheart. His career took them to California where they raised two sons and a daughter. One son is now an airline pilot. Nancy didn't fly between 1949 and 1959, but when the children were school age, she resumed flying. She owned a succession of airplanes, flight instructed, competed in three Powder Puff Derbies, and became a glider pilot and instructor in California after age fifty.
After Paul's death in 1978, Nancy served one term as mayor of California City, then moved back to Alabama. She established a successful real estate development business by building houses on land she inherited from her father. She served one term as a St. Clair County Airport commissioner. In 1989, she was the first woman inducted into the Alabama Aviation Hall of Fame. In 1997, a plaque in her name was placed in aviation's prestigious Forest of Friendship, near Amelia Earhart's Atchison, Kansas birthplace. Her WAFS uniform, first logbook, and Mooney Mite airplane are enshrined at the Southern Museum of Flight in Birmingham, Alabama. Multitalented and adaptable in her approach to life, Nancy is a role model for today's young women whether they fly or not.
In September 1999, at age seventy-nine, Nancy had the opportunity to fly co-pilot in a corporate King Air twin-engine turbo jet. She passed all her necessary ratings and flew several trips. Her last flight was not long after her eightieth birthday, shortly before she was grounded by a terminal illness that claimed her life.

Other Inductees


Alabama Women's Hall of Fame

2005 Alabama Women's Hall of Fame